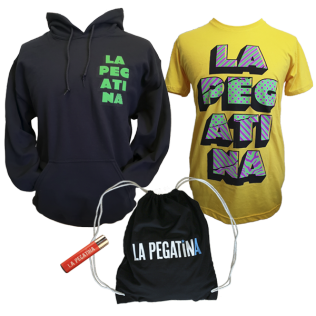 Packs
Pack fiesta más grande del año (complete)
Get this pack that include a tee-shirt, a sweater, a bag and a lighter.  
T-shirts
La Pegatina . 2018 La fiesta más grande del año
Get this tee-shirt of La Pegatina, it exists in two colours: yellow and purple.
More clothes
La Pegatina 2018 Sweater
Get this sweat of La Pegatina in black.
Gadgets
Lighter
Get this lighter of La Pegatina, it exists in five colours: black, blue, red, orange and green.
Gadgets
Bag La Pegatina
Get this bag of La Pegatina.