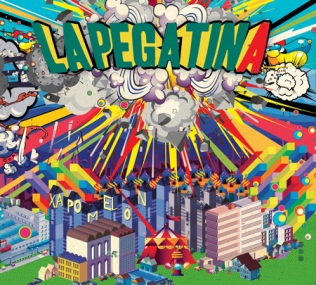 Discs
Xapomelön
Xapomelon is the name of la Pegatina's third album. It is to be released at a great time for the members of the band who are now well known in Catalonia, Spain and even Europe.To this day they have performed more than 450 concerts. A job that they have fulfilled with simplicity, honesty and a breath of fresh air, leaving aside all prejudice and living the moment to the full.
The CD was recorded in MusicLan (Avinyonet de Puigventós) and La Atlántida (Barcelona). It was mixed in MusicLan and mastered at Mastering Mansion (Madrid). The entire album was self produced by La Pegatina and edited by Kasba Music.


1. La Sorranchera
2. Muerdeme
3. La Voisine
4. Busco
5. El caliz de fuego
6. Janoneva
7. Lacon con grelos
8. Solo por una vez
9. Foxy&Billy
10. Recuerdos
11. Maricarmen
12. Y si voy
13. Molta Merda i Massa Teatre
14. Jai Eta Dantza
15. Chocholoco
16. Si de Nit
17. Ajo y Agua
18. Luces en el Bar
19. Imagina
20. Mal de Planxa
21. Xapomelon
 
In a nutshell, Xapomelön is a very ambitious album for a band that is growing every day by touching more and more fans in Europe and South America.
Old price 10,00€
Offer -50%: